Recently, elite woman Australian cyclist
Carlee Taylor
demonstrates that
women race just like the men
(minus ubiquitous doping
1
)—unfortunately, the camera did not stick around to record her unbelievably determined race reentry.
Reminds me of multiple Grand Tours winner
Bernard Hinault
's racing determination:
Res:
UPDATED 09/14/2015
WC, The bicycling big book of cycling for beginners : everything a new cyclist needs to know to gear up and start riding (Preview)
An easy to read book for women (and men) just beginning their foray into cycling.
Web:
UPDATED 11/06/2018
UCI, 2018 UCI Women's WorldTour - Best Moments
and
UCI, Women's World Ranking, Individual, 2018
and
Wikipedia, 2018 UCI Women's World Tour
UPDATED 10/13/2018
CyclingNews, UCI Women's WorldTeam Minimum Salary Set for 2020
UPDATED 08/10/2018
UCI, Women's WorldTour - Boels Dolmans Cycling Team
-
Major 2018 Sponsor Specialized
-
Venge Elite - 2018
and
UCI, Women's WorldTour - Team Sunweb Time Trial
-
Major 2018 Sponsor Giant
-
Trinity Advanced Pro
UPDATED 07/22/2018
Trek, Trek Announces New Women's [UCI 2019] Road Team
UPDATED 07/21/2018
UCI, La Course by Le Tour de France – Highlights
...)
UPDATED 06/04/2018
VoxWomen, UCI Women's WorldTour - Cecilie Uttrup Ludwig
UPDATED 05/18/2018
UCI, AMGEN Tour of California Stage 1 – Highlights
and
ATC, Stage 1 of the 2018 Amgen Tour of California Women's Race
(with interviews)
UPDATED 05/17/2018
UCI, Women's WorldTour - Sabrina Stultiens
and
WaowDeals Pro Cycling
(formerly, WM3)
UPDATED 04/20/2018
2018 UCI Women's WorldTour – Flèche Wallonne – Highlights
UPDATED 01/22/2018
CyclingNews, Santos Women's Tour Secures Equal Prize Money with Tour Down Under
UPDATED 01/07/2017
VeloNews, Team Sunweb Implements Independent Anti-doping Program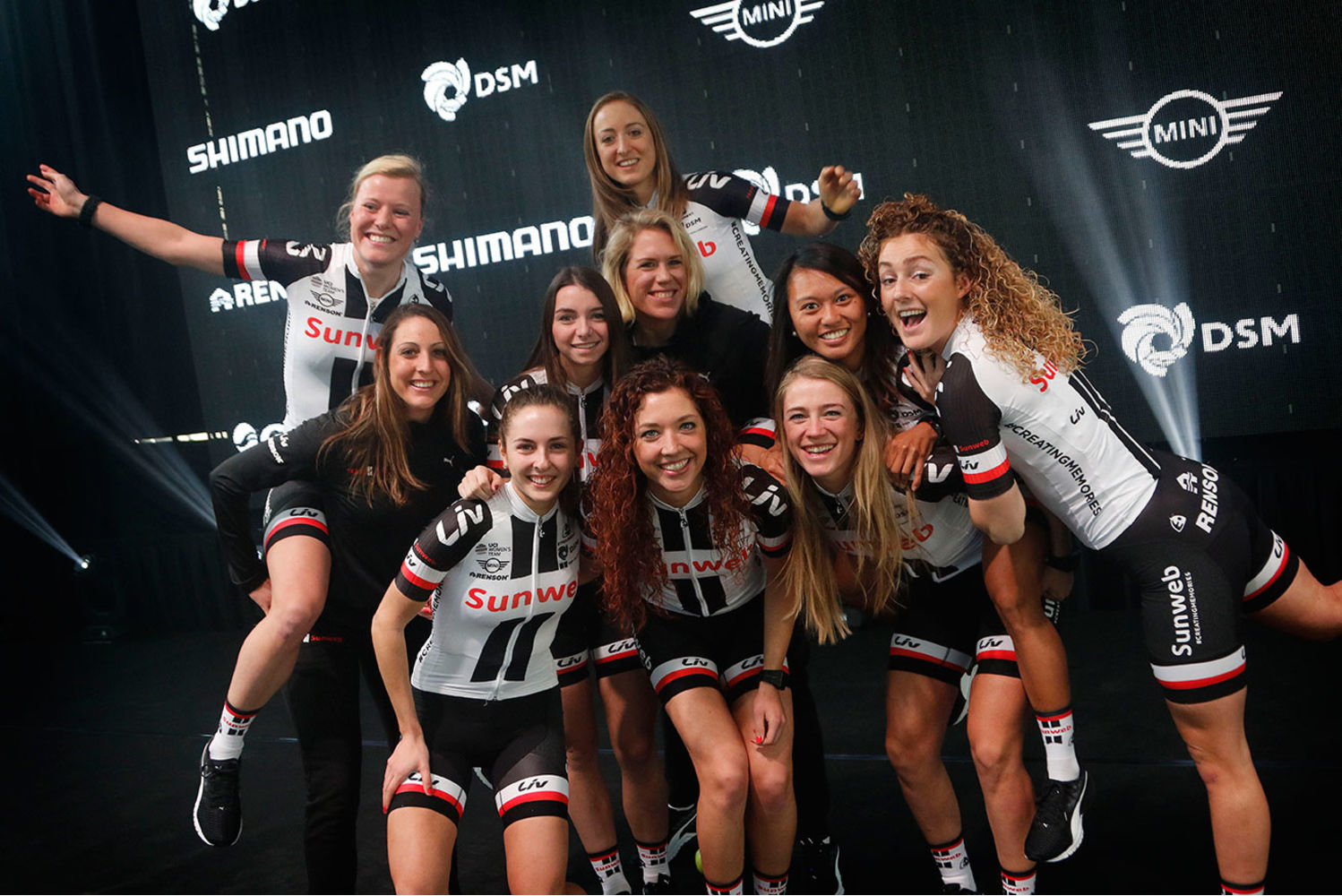 Kudos to the
Sunweb organization
and its 2018 women, men, and development squads for their determined efforts to "up their game" and leave professional cycling better than they found it.
UPDATED 12/21/2017
VeloNews, VeloNews Awards 2017: Van der Breggen is Female Cyclist of the Year
UPDATED 12/08/2017
CyclingNews, Van der Breggen's Ardennes triple named Most Memorable Women's Moment in Cyclingnews poll
UPDATED 06/15/2017
UCI, Women's WorldTour - OVO Energy Women's Tour – Highlights Stage 5
UPDATED 06/02/2017
Vox, How Bicycles Boosted the Women's Rights Movement
UPDATED 05/201/2017
Specialized, Race Reporter Ruby with Megan Guarnier
UPDATED 04/20/2017
UCI, 2017 UCI Women's WorldTour: Focus on Ashleigh Moolman Pasio
Ashleigh Moolman-Pasio
describes her mental and physical determination to recover from her latest major cycling injury.
UPDATED 04/04/2017
Olympic, Anatomy of an Elite Cyclist
and
UCI, Women's WorldTour - Focus on Kasia Niewiadoma
Road and MTB cyclist Jolanda Neff shares some laboratory performance data and Road and MTB cyclist Kasia Niewiadoma tells what happens to a novice elite rider during competition who ignores her sweating:
—
UCI
Women's WorldTour
peloton should begin publishing racers' real-time performance and imaging data.
UPDATED 01/11/2017
Velo, Megan Guarnier: The (not so) natural
UPDATED 12/22/2016
WSJ, Women's Sports: New Site Fills the Void in Coverage
and
Excelle Sports, Cycling
UPDATED 12/19/2016
CyclingWeekly, 37-year-old amateur rider lands professional contract with Canyon-SRAM team
and
EllaWomen'sCycling, Zwift Academy rider Leah Thorvilson wins Canyon-SRAM contract
and
CyclingNews, Canyon-SRAM's 2017 Roster
and
CanyonSram, Women's Cycling Race 2017
and
Zwift Academy News
and
UCI Road Calendar 2017 Season - UCI Women's WorldTour - Women Elite
Currently 10 women are competing for three training slots at the
Canyon-Sram 2017 Team training camp in Mallorca, Spain
(
Majorca
for the English riders). One of the
three finalists will then be selected to race with the Canyon-Sram 2017
(11th member), a
tour de force
in women's team time trial!
UPDATED 08/12/2016
UKMirror, Annemiek van Vleuten provides update on condition as she posts first picture since Olympics horror smash
and
CyclingNews, MRI reveals no further injury for van Vleuten
and
UCI, Final Results Rio 2016 Women's Road Race (pdf)
Pirouetting on the front wheel is a skill best performed by an elite
trials cyclist
, not an elite road cyclist during a 45-50 mph descent!
Rio UCI Results, Women's Individual Time Trial
and (
VeloNews, Kristin Armstrong wins third Olympic time trial in Rio
)
Unofficial Unsanctioned Women's UCI Cycling Blog, Giro Rosa 2015
Procyclingstats, 2015, Giro d'Italia Internazionale Femminile (2.1) - Results
Cyclingfans, 2015 Giro Rosa Live
Wikipedia, 2015 Giro d'Italia Femminile
Other Races:
Kudos to the ASO for sending the elite women's peloton up the alps.
2017 Women's World Tour Race 10, Stage 1
World Champion Armitstead and World Time-Trial Champion van Dijk team up and pull the National Champion Majerus to a stage win—pretty classy!
Aviva 2016, Stage 1
Commentators Sarah and Hugh do a great job of informing this year's
Aviva Women's Tour
and decidedly more difficult and exciting racing.
Elegant Cycle Racing!
Other Race News:
UPDATED 08/08/2016
UCI, Van der Breggen takes the Netherlands' second straight gold in women's Olympic road race
UPDATED 05/201/2016
Felt Bicycle, Rio Olymics Women's Pursuit Track Cycling Team
Felt Development, FSA, and HED team up to design an asymmetric track cycling frame (TA-FRD), which has been optimized for the Rio 2016 women's
team pursuit track cycling team
.
UPDATED 03/02/2016
Velo, Preview: Women's cycling's biggest year ever
UPDATED 02/27/2016
Velo, Live coverage: Evelyn Stevens hour record
and
Velo, Evelyn Stevens will attempt to break UCI hour record
"She will use a Specialized Shiv modified for the track with a
Zipp 900
front wheel and a Super 9 rear disc, and a Bioracer skinsuit." CyclingNews
UPDATED 02/05/2016
WiggleHonda, A Chat with the Best, Eddy Merckx
What a fantastic video and moment for women's elite cycling!
UPDATED 01/22/2016
Velo,Australian O'Donnell breaks women's hour record
UPDATED 12/07/2015
Velo, 2015 Velo Awards: Ferrand-Prevot is International Cyclist of the Year
UPDATED 10/05/2015
Road to Richmond with the US Women's Team
UPDATED 09/29/2015
VCU Exercise Science: Professional Cyclist Evie Stevens Interview VCU ALT Lab
UPDATED 08/28/2015
2015 Pro Challenge Women's First Inaugural Kickoff Press Conference
Marianne Vos
and
Emma Johannes
are beginning to mentor the younger women riders and racers, which will significantly benefit formative women's cycling.
-----notes-----
1. UPDATED 10/04/2018
Reuters, U.S. Indicts Seven Russian Intel Officers in Alleged Doping Scandal Hack
UPDATED 08/03/2018
VeloNews, Hinault Refuses To Keep Mouth Shut Over Froome Case and Changing Sport
...the therapeutic use exception (TUE) is an overused and unnecessary procedure...a racer is race-ready or they're not...
UPDATED 04/20/2018
ChemistryWorld, Corticosteroid Triamcinolone, and The Abuse Potential of Therapeutic Use Exemptions in Professional Sports
and
Acetylcysteine Helps Manage Lung Conditions
UPDATED 03/26/2018
NYT, At the Heart of a Vast Doping Network, an Alias
UPDATED 03/22/2018
EuroNews, World Cycling Body Moves To Combat Motorised Doping
UPDATED 01/25/2018
VeloNews, Amateur Rider Jennifer Schumm Banned Four Years for Testosterone
Kudos to
USADA
! Usage of
TUES
are temporary "short duration" exception to a strict goal of no doping in competitive cycling, not a permanent or routine competitive tool.
UPDATED 12/05/2017
NYT, Russia Banned from Winter Olympic by I.O.C.
UPDATED 09/19/2017
NYT, World Anti-Doping Agency Clears 95 Russian Athletes
and
Reuters, WADA tells Russia to stop shifting blame for its doping scandal
UPDATED 01/31/2017
60Minutes, Hidden magnets — the next big cheat in cycling?
Can
UCI President, Brian Cookson
end chemical and mechanical doping in the professional men's peloton without ending men's professional cycling? Cookson's dilemma is that professional men's cycling may decline or end with and without chemical and mechanical doping, which may explain Cookson's approach of pursuing doping, but not too aggressively!
Can the impressive professional women's peloton avoid Cookson's dilemma as its sponsorships and fan base continue a dramatic ascent?
UPDATED 12/30/2016
Reuters, Russian officials admit sports doping - NYT
UPDATED 11/16/2016
CyclingNews, Dekker says former Silence-Lotto doctor injected him with cortisone
UPDATED 11/07/2016
UCTV, Spitting in the Soup: Inside the Dirty Game of Doping in Sports with Mark Johnson
UPDATED 09/15/2016
Velo, WADA hack no big deal for Froome and Wiggins
WADA has augmented a cycling (and other sports) doping problem with an abusive "TUEs" (
Therapeutic Use Exemption
) problems.
UPDATED 08/12/2016
CyclingNews, Armitstead: People will think I'm a cheat for the rest of my life
and
BBC, Rio 2016 Olympics: Lizzie Armitstead defends missed drugs tests
and
VeloNews, Armitstead issues statement on missed anti-doping controls
A leading professional cyclist, especially one wearing the magical rainbow jersey who provides a pattern or series of jeremiad instead of randomly drawn blood and urine samples through the "whereabouts system" should expect a lot of skepticism.
Inside an Anti-doping Laboratory
LiveScience, The 'Doping Arms Race': How Athletes Evade Testing
As the costs decrease and automated screening efficiency using large micro-arrays increases the imaginations of cheating athletes, coaches, and boutique chemists will begin to lag. When coupled with certain, credible, and effective career ending suspensions from competition the short-term appeal to use unauthorized (i.e. noncompetitive) performance enhancing methods will begin to lag, too.
Kudos to
UKAD for its strict efforts
to make sure cyclists [and other athletes] compete clean. Also,
WADA Whereabouts Q&A
and
CleanSportsBlog, Understanding the Whereabouts System
UPDATED 08/02/2016
VeloNews, Lizzie, we need answers
[...and fast] How does a domestic federation clear an elite cyclist that misses
four
three "out of competition" drug tests?
UPDATED 07/28/2016
UCI, UCI statement on the eligibility of Russian riders at the Rio 2016 Olympic Games
and
CyclingNews, UCI confirms three Russian cyclists withdrawn from Olympic Games
"The UCI is absolutely committed to protecting the rights of clean athletes at the Rio 2016 Olympic Games and beyond." --UCI, July 28, 2016--
..not to mention preserving the sport of elite cycling...cyclists bans, exemptions, and performances across time will be more meaningful than press announcements.
UPDATED 07/21/2016
BBC, Rio Olympics 2016: Russia fails to overturn athlete ban for next month's Games
UPDATED 07/18/2016
Reuters, IOC vows 'toughest sanctions' after report confirms Moscow's broad collusion in doping
UPDATED 06/27/2016
Last Week Tonight with John Oliver: Doping (HBO) Even a serious issue needs humor:
UPDATED 06/06/2016
Velo, American cycling has a doping problem, and it's no longer at the top
UPDATED 04/18/2016
CyclingNews, Bugno calls on UCI to use heat cameras to detect mechanical doping
It's encouraging that the doping debate is shifting to effective and efficient methods for preventing mechanical doping. Is the biological-passport (aka b-passport) growing accuracy and precision causing the shift?
UPDATED 03/13/2016
NYT, Wave of Positive Tests for Meldonium Adds to Doping Crisis
It's astonishing that a sports MD would say a drug, which increases blood flows and hence oxygen is not performance enhancing. Such statements buttress the argument against team or private doctors for professional and elite cyclists—every rider uses a trained and certified doctor from the peloton pool.
UPDATED 11/20/2015
CyclingWeekly, WADA finds Russia and five others non-compliant with anti-doping code
and
UCI president Brian Cookson responds to athletics doping scandal
Heightened awareness of peloton doping, biological passports, team or individuals' doctor's notes, or national lab countermand tests are not substitutes for independent routine, rigorous drug testing and permanent peloton disqualification of all doped racer.
UPDATED 11/19/2015
VeloNews, Anti-doping is coming to masters and amateur racing
UPDATED 11/18/2015
Atlantic, Can Russia Clean Up in Time for the Olympics?
Don't forget the doctors!
Training regimens for serious amateur and professional cyclists requires input and oversight from competent sports doctors to minimize the possibility of cyclists' injury. However, this does not mean every amateur and pro team or individual riders require their own personal sports doctor.
UPDATED 11/16/2015
Reuters, Russia proposes its athletes compete under Russian Olympic flag to evade ban
UPDATED 11/13/2015
VeloNews, Cookson: We couldn't run pro cycling without dopers
Fine, let the men's pro-cycling peloton completely implode, if necessary to clear the ubiquitous doping and dopers! UCI can focus its resources on building a clean women's peloton.
We'll see if the women's pro-cycling peloton can exist and thrive without the doping, dopers and their indispensable (some might say indefensible) doctors?
UPDATED 11/10/2016
NYT, Drugs Pervade Sport in Russia, World Anti-Doping Agency Report Finds
The Independent Commission (IC) is created by decision of the World Anti-Doping Agency (WADA) President following allegations of doping aired between 3rd and 8th December 2014 by the German television channel ARD.
Independent Commission's Final Report dated November 09, 2015





Originally Published July 10, 2015: Last Updated November 06, 2018; Last Republished November 06, 2018: