Originally Published February 14, 2016; Last Updated July 10, 2018; Last Republished July 10, 2018:
Associate Justice
Antonin Gregory Scalia
dies at age 79—he preached a static and stale legal pedanticism that neither our language nor Constitution could carry.
Res:
UPDATED 03/23/2016
CRS, Justice Antonin Scalia: His Jurisprudence and His Impact on the Court
and
Merrick Garland's Nomination to the Supreme Court: Initial Observations
Web:
UPDATED 07/10/2018
NYT, Brett Kavanaugh Is Trump's Pick for Supreme Court
and
Reuters, Top U.S. Senate Democrat Vows To Fight Trump's Supreme Court Pick
and
NYT, Conservative and Liberal Groups Gird for Battle Over Kavanaugh Image
and
CourthouseNews, Trump Picks Kavanaugh to Replace Kennedy on High Court
...
Judge Kavanaugh
...an acolyte of the deceased
Scalia
,
Federalist Society
protege, and docent of the "
originalism
" dogma docket is highly unlikely to do well a primary duty of an active justice, complement court credibility...
...without credibility what is a court's announcement that a business baker can decide whether to deliver cakes into the steam of commerce based on his interpretation of the gospel according to
Jesus
...makes the constitutional interpretive efforts of
originalism
seem stupendously scientific...
UPDATED 05/22/2018
CLR, Reclaiming the Constitutional Text from Originalism: The Case of Executive Power
UPDATED 04/18/2017
Onion, Rookie Justice Gorsuch Assigned To Supreme Court Overnight Shift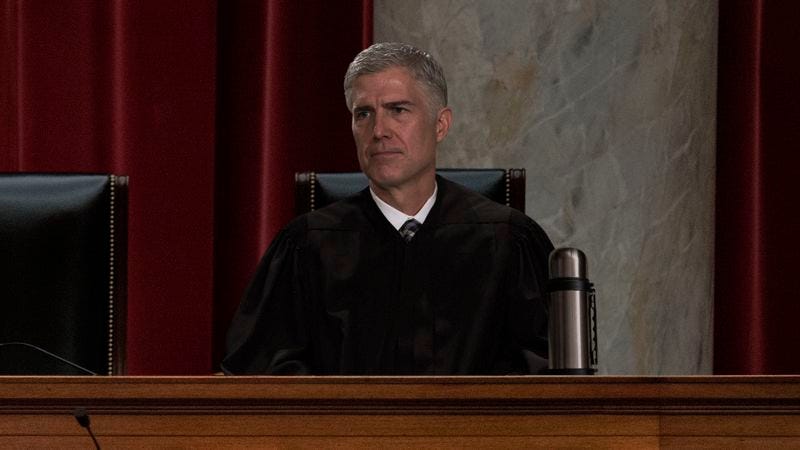 UPDATED 04/08/2017
AP, Senate Democrats Secure Votes To Block Gorsuch
The minority Senate members need not apologize for filibustering the Gorsuch nomination.
He's "mainstream" while attending
Federalist Society
meetings with its claimed membership estimated at 70,000 (6/7th lawyers and 1/7th law students)! However, such a small clique or core cabal of lawyers committed to pursuing an extreme libertarianism (aka neo-anarchism) is hardly representative of "mainstream" America, especially if they wear black robes on our Supreme Court.
—
UPDATED 03/20/2017
Bloomberg,Why the Supreme Court's Approval Rating Is Sliding
and
C-SPAN, Gorsuch Confirmation Hearing, Day 1; Live
Efforts to disguise libertarian dogma and doctrine (aka neo-anarchism) in black robes is likely to backfire while seriously harming our Supreme Court and nation.
UPDATED 02/02/2017
Reuters, Trump Supreme Court nominee Gorsuch seen in the mold of Scalia
and
NYT, In Judge Neil [M.] Gorsuch, an Echo of Scalia in Philosophy and Style
and
WP, Key decisions from Supreme Court nominee Neil Gorsuch
Justices who pretend they can interpret our frabjous
1
Constitution
within today's context are preferable to those who pretend they can interpret it within yesterday's context.
UPDATED 03/21/2016
NYT, John Roberts Criticized Supreme Court Confirmation Process, Before There Was a Vacancy
Mr. Chief Justice, wonder if the Court's increasing patina tarnish (some might say sully or disgrace) is related to the politician requites?
UPDATED 03/17/2016
WP, Initial thoughts on President Obama's decision to nominate Judge Merrick Garland to the Supreme Court
UPDATED 03/05/2016
NYT, Supreme Court Nominees Considered in Election Years Are Usually Confirmed
PBS, Justice Antonin Scalia's Funeral Mass
Roll Call, Justice Scalia Lies in Repose at Supreme Court
Oyez, Supreme Court Virtual Tour, Including Captions for Chief Justices' Busts in Great Hall
The casket appears to be traverse the bust of Chief Justice Morrison R. Waite, Great Hall-Middle West
.
USN, Supreme Court In Memoriam Associate Justice Scalia
WH, Watch President Obama Speak on the Passing of Supreme Court Justice Scalia
NYT, Justice Antonin Scalia: His Life and Career
-----notes-----
1. Feel free to spend time studying literature, poems, law,
Lewis Carroll
, and
Alice Through the Looking Glass
etc. as needed to interpret yesterday's (circa 1871 CE) context of "frabjous" or grab
today's context
from Google.
2. Dogma by definition is stagnant and not an element in the desirable set of attributes required of any lawyer, much less a nominee lawyer to our Supreme Court. An
ABA Federal Judiciary Standing Committee
, which rates a dogmatic lawyer "well qualified" is either unaware of the dogma or evaluating the nominee as "well qualified" to enforce an implicit agenda.