Originally Published March 10, 2009; Last Updated May 24, 2018; Last Republished May 24, 2018:
United States maritime surveillance ship
USNS Impeccable (T-AGOS 23)
1
was harassed by a handful of smaller Chinese ships while openly conducting operations in the South China Sea, approximately 75 nautical miles south of Hainan Island, China (
aerial map
). Operations were well outside China's 12 mile territorial waters as defined by
United Nations Conventions on the Law of the Sea
(UNCLOS).
The harassment is more indicative of pirates' behavior than what is expect from a professional
PLA Navy
and its sailors—at one point the Chinese ships blocked passage and pretended to ram ("playing chicken") the USNS Impeccable.
The Chinese ship came within
75
25 yards feet
3
of the USNS Impeccable, which responded by spraying the ships with its fire hoses. This is not the first time
2
China has wrongfully asserted its territorial 12 mile rights within its 200 mile economic rights zone—within 12 mile the "right of transit" does not include surveillance and mapping rights—outside 12 miles the "right of transit" does include surveillance and mapping rights. In addition to the formal protest, these unnecessary provocations can be put on the agenda of the recently restarted China-American military-military talks and working group.
Res:
UPDATED 10/25/2016
Brookings, A Glass Half Full: The Rebalance, Reassurance, and Resolve in the U.S.-China Strategic Relationship
It's difficult to think of big power nations working hard together to complete a quality bilateral investment treaty as a relationship on a bad path. A multidimensional relationship that captivates, confounds, and challenges, sure, but that's not bad!
UPDATED 07/18/2016
SCSOrg, The South China Sea
(a student-faculty collaborative
project of Middlebury College
)
An online resource for students, scholars and policy-makers interested in South China Sea regional development, environment, and security issues.
UPDATED 07/18/2016
PCA, The South China Sea Arbitration Award of 12 July 2016
and
Wikipedia, Philippines v. China (aka SCS Arbitration)
Constructively and responsibly participating in today's global community and commons means nations must recognize, respect, and abide by awards and rulings of proper international tribunals. Referring to designated and recognized international tribunal proceedings as a "farce" (趣剧; qùjù) is to incrementally replace the rule of law with the rule of force.
Foreign Minister
Wang Yi
and HK Arbitration Centre ,Teresa Cheng
(also,
NYT, Tribunal Rejects Beijing's Claims in South China Sea
and
AP, Timeline: The China-Philippines South China Sea dispute
and
NYT, Topic, South China Sea
and
Wikipedia, Territorial disputes in the South China Sea
)
UPDATED 03/19/2016
PCA, The Republic of Philippines v. The People's Republic of China
UPDATED 09/19/2015
UPI, RAND report: Chinese military could challenge U.S.
UPDATED 12/12/2013
Carnegie/Pew, U.S.-China Security Perceptions Project 2012 General Public Survey Data
Survey data are necessary (kudos to Carnegie/Pew) but insufficient to understand the first principles that lead to conflict avoidance.
It does not seem particularly novel for a survey to discover that a collection of individuals (nation) apply the cultural identity they learn. Unusual would be the survey that discovered a collection of individuals that assert they prefer applying a continually changing cosmopolitan cultural identity to an "exceptional cultural identity"!
Chinese military officers, at all levels (in addition to Chinese military scholars) must participate in future Carnegie/Pew US-China Security Perceptions Project surveys. Saluting expressions of "exceptionalism" will not produce the cosmopolitan changes required for close cooperation between China and America.
Our global problems are too ginormous to waste much time saluting reciprocal and meaningless expressions of "cultural exceptionalism" by either American or Chinese leaders!
UPDATED 01/29/2013
CRS, Maritime Territorial Disputes in East Asia
, January 2013
Finally, claimants begin refining their claims for presentation before a formal UNCLOS tribunal—claims that unsurprisingly sound similar to claims made between acrimonious divorcees dividing up property of dubious valuation using tangled logic meaningful only to each individual divorcee asserting the claim.
YouTube:
UPDATED 03/21/2017
AsiaSoc, What Does Xi Jinping and China's Rise Mean for the United States and Europe?
China watchers' clear-eyed discussion of current issues
UPDATED 03/01/2017
How Should The US Approach China?-- Winston Lord Orville Schell and Susan Shirk
UPDATED 02/17/2017
Vox, Why China is Building Islands in the South China Sea
Summary of involved islands utilizing existing data.
UPDATED 12/15/2016
UCTV, Paul Pickowicz on China: What's Next for Washington?
UPDATED 11/29/2016
CSIS, China's Power: Up for Debate
Neither sea trade access nor the oft dreamed of mega-trillions of dollars in seabed resources are real issues of the South China Sea.
UPDATED 09/22/2016
CSIS, The Modern Origins of China's South China Sea Claim
Much of this presentation is subsumed in the speaker's interesting book:
The South China Sea The Struggle for Power in Asia, Yale Press (2014
).
UPDATED 09/06/2016
CCTV, Third Party Interference in South China Sea Disputes Hampers Settlement, Says Putin
There is nothing novel about an authoritarian bully-nation expressing support for another authoritarian bully-nation's bullying. What's novel is a global community's willingness to immediately and progressively begin isolating (physically and economically) bullies before they become a menace.
UPDATED 08/16/2016
CCTV, Meeting on South China Sea: Asian diplomats discuss DOC implementation
UPDATED 07/15/2016
CSIS, Sixth Annual CSIS South China Sea Conference
Unfortunately, the CSIS channel moderator segmented the complete (7+ hours) conference video without creating a playlist, so you'll have to search and play individual segments.
Our nation must become a
party
(ratify) to
UNCLOS
:
"If we're truly concerned about China's actions in the South China Sea ... the Senate should help strengthen our case by approving the Law of the Sea convention, as our military leaders have urged," Obama said in a commencement speech to the U.S. Air Force Academy." VOA dated June 06, 2106
There are a diminishing number zealous ideologues in our Senate (maybe fewer after the next general election), which zealously believe becoming a party to any and all (not just UNCLOS) international agreements harms our nation.
These zealots often mistakenly conflate use of force with leadership and often substitute slogans for substantive reasoning or analysis, too.
UPDATED 07/01/2016
CSIS, The South China Sea Arbitration
UPDATED 06/18/2016
CCTV, FAQ: How will China resolve the South China Sea disputes?
and
CCTV, China's Defense Ministry confirms Chinese ship sails through Tokara Strait
(
Wikimapia, Area Around Kagoshima, Japan
)
UPDATED 06/04/2016
PNews, Ash Carter with Defense Minister Ng Eng Hen of Singapore News Conference at the Asia Security Summit
and
IISS, Meeting Asia's complex security challenges - Highlights from Ashton Carter's address
UPDATED 05/27/2016
Reuters, G7 fret over global growth prospects
and
Reuters, UPDATE 1-China says extremely dissatisfied with G7 statement on South China Sea
Asserting that unobstructed access to all international waters, including the East and South China Seas has nothing to do with global economics is like asserting that China's
Yi minority
children have a path to and from school.
Constructing stairs, which facilitates education will likely be more useful than constructing islands!
UPDATED 05/25/2016
YouTube IISS, Perspectives on the South China Sea: Ambassador Liu Xiaoming
UPDATED 05/11/2016
YouTube CCTV, China expresses indignation over US intrusion
and
Reuters, China scrambles fighters as U.S. sails warship near Chinese-claimed reef
and
CFR, Armed Clash in the South China Sea
and
Xinhua, China warns Philippines against "blackmailing" on South China Sea
No, the United States does not need more naval assets to counter China's current maritime assertions. Yes, a naval incident is likely before China and the United States learn to play nice on the South and East China Sea playground.
It's encouraging both nations are citing UNCLOS, if somewhat selectively (China denies UNCLOS jurisdiction and the United States refuses to sign ratify UNCLOS) to support their playground (mis)behavior.
Pass out plenty of Kleenex and enjoy each nation's jeremiads, which you've heard ad nauseam before.
UPDATED 05/02/2016
YouTube, CrossTalk: Bullhorns in the Bullpens
Russia perspective. These are the games nations have played for decades to justify their billions spent on costly weapons systems.
We're just more connected and demanding more transparency from our governments these days so we hear about the "close calls" and periodic confrontations and collisions. It's just like children bullying each other on the playground and blaming the other, but with more deadly weapons.
It's important that economic sanctions be immediately, progressively, and continuously imposed on all unilaterally aggressive nations until every nations is convinced that unilateral aggression will bring only a certainty of international isolation and ruinous economic decline.
UPDATED 04/26/2016
YouTubeCBS, Obama on challenges posed by North Korea, China
It seems useful to clarify that China likely views itself as emulating the globally hegemonic United States, which is perceived by some as a big kid quite capable of ignoring inconvenient international norms, customs, and law in pursuit of its national interests.
Stated differently, a global hegemon cannot effectively rely on the adage "do what I say, not as I do" and expect other nations to acquiesce or follow!
UPDATED 02/23/2016
CSPAN, Robert Daly talked about U.S.-Chinese relations in light of China's military deployments in the South China Sea
UPDATED 10/11/2011
TheMarines' Memorial Club
, George P. Shultz Lecture Series hosts speaker
Admiral Robert F. Willard
talking on "
Protecting the Commons: Security Opportunities and Challenges in the Asia-Pacific
" (view post talk
question and answer video
).
Admiral Willard has been appearing in a variety of forums talking on the challenges presented by our fast evolving global commons. Challenges that will require nations to jettison their obsolete confrontational models in favor of cooperative models, which by definition will require novel and heterodox thinking.
UPDATED 02/13/2011 The South China Sea: Troubled Waters Much of the dialog in this video has been overcome or altered by subsequent events, most notably President Hu Jintao's recent United States visit.
It seems useful to note that a young United States has also intervened to prevent modern China's dismemberment.
Web:
UPDATED 05/24/2018
Reuters, Concrete and Coral: Tracking Expansion in the South China Sea
Nice graphic of the growing number of structures on various claimed and reclaimed rocks, reefs, and protrusions in the South China Sea.
UPDATED 03/27/2018
Reuters, Exclusive: Satellite Images Reveal Show of Force by Chinese Navy in South China Sea
UPDATED 02/25/2018
Guardian, Xi Jinping to Cement His Power with Plan to Scrap Two-term Limit
and
Xinhuanet, China Focus: Proposed Constitutional Amendment Package Unveiled
and
FT, China Poised to End Two-term Limit on Presidency
and
ChinaNews, 中国共产党中央委员会关于修改宪法部分内容的建议
An unfortunate growth in uncertainty, which is unlikely to enhance the trust required for regional stability...
UPDATED 02/06/2018
Guardian, Photos show Beijing's Militarisation of South China Sea in New Detail
UPDATED 01/20/2018
SCMP, China's 'Ice Boy'[Fuman Wang] Visits Beijing and Enjoys 'Miracle' of Heating
and
SCMP, China 'Warns Off' US destroyer Near South China Sea's Strategic Scarborough Shoal
...build sustainable inland infrastructure (i.e. local schools, housing, health, services, energy, businesses, etc >600km inland)and not environmentally destructive East and South China Sea islands.
UPDATED 11/04/2017
SMCP, Launch of Beijing's new dredger may spark concerns of renewed island building in South China Sea
UPDATED 06/22/2017
NYTeng, U.S. Pressed to Pursue Deal to Freeze North Korea Missile Tests
and
NYTch, 美国会迫于压力重启朝核谈判吗
and
NikkeiAsianReview, US, China agree to restrain business with North Korea
If our unfit "new" alt-white-house is unable to imagine and carry out any of the hundreds or thousands of ways China and U.S. can coöperate it need only ask or issue an RFI or RFP.
UPDATED 06/03/2017
IISS, Shangri-La Dialogue 2017; Commentary and Analysis Playlist
Day 1 Highlights
United States SecDef
UPDATED 04/19/2017
WP, Trump's Missing 'Armada' Finally Heading to Korea — and may stay a while
Dangerously, our "new" alt-white-house is an unfit commander-in-chief, sending salvos of cruise missiles to Iraq or was it Syria and an
armada
(a 16th century Spanish term meaning fleet) or was it a
Carrier Strike Group
to the
Indian Ocean
or was it
South China Sea
or
East China Sea
or
Korean Strait
or
Pacific Ocean
?
Here is a fleet...
here is a carrier strike group...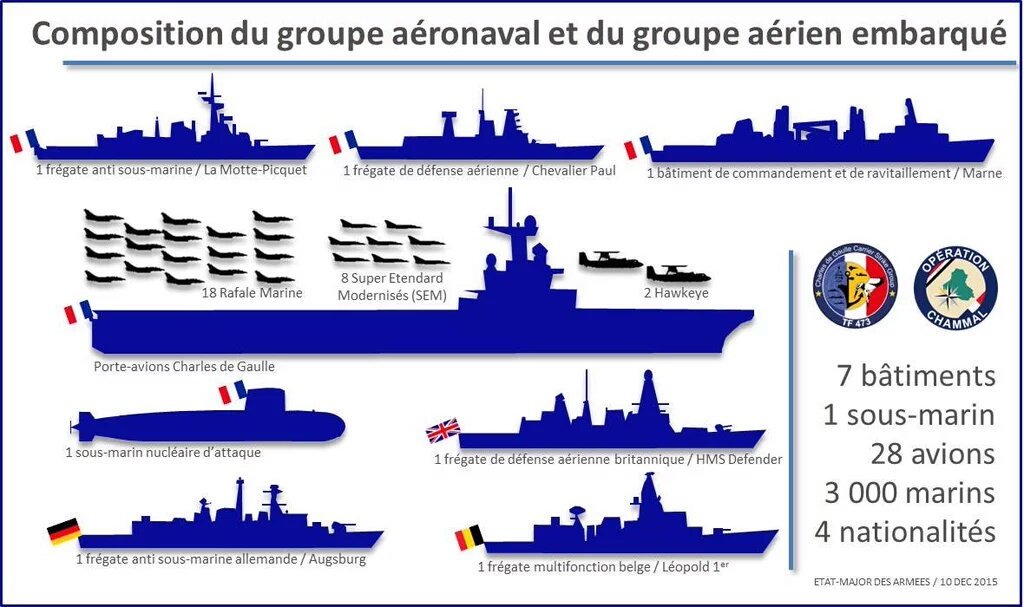 ignore the french, we know you
can't
eschew reading; just count and compare the symbols in each picture!
UPDATED 04/15/2017
CIMSEC, Hainan's Maritime Militia: China Builds a Standing Vanguard, Pt. 1
&
2
(part of a continuing
series of related articles
on China's littoral deployment of irregular personnel and patrols within the South China Sea; also
CNA, China's Maritime Militia
for listing of other Erickson articles)
UPDATED 02/24/2017
NYT, China and North Korea Reveal Sudden, and Deep, Cracks in Their Friendship
and
WP, China suspends North Korean Coal Imports, Striking at Regime's Financial Lifeline
and
NPR, China Suspends Coal Imports From North Korea, Dealing A Blow To Pyongyang
and
NYT, What Is
VX
Nerve Agent? A Deadly Weapon, Rarely Seen
UPDATED 12/14/2016
Reuters, Exclusive: China installs weapons systems on artificial islands - U.S. think tank
UPDATED 12/02/2016
ChinaDaily,Ties at key point, Xi tells Kissinger
and
WP, Xi tells Kissinger China wants 'stable' progress with US
and NYT, Ditto WP article
Continuous trusted and transparent
Track II
efforts will be enormously important to the China-U.S relationship over the next several years.
UPDATED 11/04/2016
RandBlog, South Korea Cracks Down on Illegal Chinese Fishing, with Violent Results
UPDATED 10/27/2016
CCTV, Chinese Naval Fleet Visits Vietnam to Boost Naval Ties
UPDATED 10/21/2016
Xinhua, Full Text: Joint Statement of China and the Philippines
UPDATED 10/12/2016
PDEnglish, Experts propose China and U.S. set up crisis management mechanism for South China Sea
and
National Institute for South China Sea Studies (English)
Rules based military management mechanisms now exists for avoiding unintended armed skirmishes in the East and South China Sea. Nations that want to change these rules must do so using responsible and persuasive arguments, which attracts a global consensus.
There is a vast difference between nations, which build aircraft carriers to enforce consensus rules and those building aircraft carries believing they can be used to change the rules. One is a stabilizing leader the other a destabilizing wannabe thug!
Many nations are cheering for China's responsible, peaceful, and harmonious (i.e. not coercive and confrontational) rise, but will oppose thuggery.
UPDATED 10/04/2016
Reuters, Philippine leader tells Obama 'go to hell', says can buy arms from Russia, China
The interests of the Filipino people and Philippines is not well represented by a Machiavellian leader's public displays of Hugo Chavez or Donald Trump like mental meltdowns.
UPDATED 09/30/2016
USNI, Experts Advocate Harder Stance Against Illegal Claims In South China Sea
UPDATED 09/20/2016
RAND, The Crucial South China Sea Ruling No One Is Talking About
and
Diplomat, Japan Set to Intensify South China Sea Involvement
The diplomats responsible for resolving Asia-Pacific regional hegemonic claims are talking aplenty about the ruling.
The good news is that both China and Japan et al. are keenly aware that regional hegemonic disputes require diplomatic solutions for the Asia-Pacific to continue its remarkably prosperous progress.
UPDATED 09/19/2016
CSIS, PacForum, US-China Relations: Friction and Cooperation Advance Simultaneously Bonnie Glaser
Cooperative friction is a good thing, provided its heat is directed for the benefit and stability of the Asia-Pacific region and global community.
UPDATED 09/15/2016
WP, How Google is helping to crack down on illegal fishing — from space
and
GFW, Global Fishing Watch
(reqs. no out-of-pocket cost reg.)
UPDATED 09/12/2016
ThomsonReutersTrust, China, Russia naval drill in S.China Sea to begin Monday
UPDATED 09/08/2016
UN NewsCentre, At East Asia Summit, Ban expresses concern over tensions on Korean Peninsula and in South China Sea
and
UN NewsCentre, At ASEAN-UN Summit, Ban highlights complementarity between world and regional bodies on sustainable development
President Obama Press Conference, Asia Pacific Issues
UPDATED 08/12/2016
CSIS, Updated Photos for South China Sea Fiery Cross, Subi and Mischief Reefs Showing Recently Built China Structures
UPDATED 08/09/2016
AP/NYT, US Says More Military Transparency Needed in South China Sea
and
JT, U.S. Navy ship makes first China visit since South China Sea arbitration ruling
UPDATED 07/28/2016
CIMSEC, South China Sea Week
UPDATED 07/25/2016
WP, Obama aide visits China after South China Sea ruling
UPDATED 07/18/2016
USCC, China's Island Building in the South China Sea: Damage to the Marine Environment, Implications, and International Law
(pdf)
Sixth Annual CSIS South China Sea Conference: The Environmental Question
UPDATED 07/18/2016
Reuters, Freedom of navigation patrols may end 'in disaster': Chinese admiral
Daniel J. Kritenbrink, Senior Director for Asian Affairs National Security Council
Hey, if China and United States (and others) continue uncontrollably spewing hydrocarbons into our atmosphere (UPDATED 07/25/2016
SA, Can Chemists Turn Pollution into Gold?
and
carbonXprize
competition) land reclamation, map making and military skills could come in handy?
UPDATED 07/11/2016
CarnegieEndow, A Chance to De-escalate South China Sea Tensions
Swaine's statement, almost three years old is still valid and trust building progress is positive, however incrementally slow!
UPDATED 07/06/2016
FP, Beijing Takes its South China Sea PR Campaign to Washington
UPDATED 07/05/2016
WilCenter, The Month in U.S.-China Relations 中美关系一个月 (June 2016)
UPDATED 06/30/2016
ABA Standing Committee on Law and National Security Breakfast Program Podcasts: JAG, Vice Admiral James W. Crawford, Freedom of Global Navigation Under Threat
UPDATED 06/08/2016
WilCenter, The Month in U.S.-China Relations 中美关系一个月 (May 2016)
UPDATED 06/04/2016
IISS, The IISS Shangri-La Dialogue, 15th Asia Security Summit
UPDATED 05/31/2016
NYT, The South China Sea Dispute: Beijing's View
UPDATED 05/23/2016
WH, President Obama and President Quang
and
Xinhua, Russia unfazed by U.S. lifting embargo on arms sales to Vietnam: official
(not sure why China is reporting Russia is unfazed?) and
Xinhua, Interview: Negotiation better than tribunal for settling South China Sea disputes: legal expert
South China Sea and FON at approximately 18:00
UPDATED 05/17/2016
PM, Beijing Enraged by Pentagon's New Report on China's Military
Includes link to annual report,
Military and Security Developments Involving the People's Republic of China 2016
UPDATED 05/17/2016
FP, Freedom of Navigation Operations in the South China Sea Aren't Enough
"Tit for tat" is not a foreign policy, diplomatic requirement or generally useful and effective.
UPDATED 05/12//2106
WilCenter, The Month in U.S.-China Relations 中美关系一个月(April 2016)
UPDATED 04/30/2016
EconomicTimes, Xi Jinping reasserts China's sovereignty over South China Sea
There is a big difference between China stating it will safeguarding sovereignty "in" the South China Sea and the headline "over" the South China Sea.
UPDATED 04/28/2016
Bloomberg, Chinese Navy in South China Sea Draws U.S. Admiral's Praise
UPDATED 04/25/2016
Guardian, Chinese military plane lands on disputed South China Sea island
and
Reuters, U.S. to give Philippines eye in sky to track South China Sea activity
and
DailyMail, US Navy developing fleet of drone 'mother submarines' that can release smaller robots to lay mines or launch missiles to counter China threat
UPDATED 04/15/2016
Reuters, U.S. defense secretary visits carrier in disputed South China Sea
and
9NewsAu, PM raises South China Sea with president
and
USNI, New Maritime Awareness Project Kicks Off With South China Sea Discussion
An international maritime awareness project is a welcomed alternative to kinetic methods (i.e. sinking each others vessels) of (re)acquainting nations with maritime domain awareness.
UPDATED 04/11/2016
Bloomberg, U.S. Seeks to Put South China Sea on Table at G-7 Meeting
and
EuropeOnline, China warns G7 nations not to «hype» South China Sea disputes
and
Australian, China security flashpoints cloud biggest business delegation
Not only must the East and South China Seas increased tension be on the
Hiroshima-G-7 agenda, any joint statement
must make clear that no nation is "too big" to impose economic sanctions on, including the United States.
UPDATED 03/28/2016
EAF, What Australia's stance on the South China Sea means for Southeast Asia
UPDATED 03/23/2016
ASPI, China: courting disaster in South China Sea
and
Diplomat, China and the Freedom of Navigation
and
Reuters, Australia calls China's South China Sea moves 'counterproductive'
and
JT, Former U.S. Navy head [Greenert] backs freedom of navigation operations with Japan
and
CMO, Australian scholar: U.S. lies in South China Sea
UPDATED 03/22/2016
NewsAsia, Australia to continue sending ships, planes to disputed South China Sea
and
WP, These are the new U.S. military bases near the South China Sea. China isn't impressed
and
Xinhua, China slams U.S., Philippine military deployment in South China Sea
and
Reuters, China says U.S.-Philippines base deal raises questions
and
MilTimes, The U.S. military is moving into these 5 bases in the Philippines
and
Diplomat, China's Maritime Expansion: Contradictory Threat Analyses from the US Government?
and
CSIS, PacNet #29 - Obama's recent China policy – more resolve, rising tension
Militarization of the East and South China Seas requires a combination of daftness, duplicitousness, deafness, deceptiveness, daringness, and dominance, which cooperating and collaborating nations are unlikely to long tolerate.
UPDATED 03/21/2016
Reuters, Indonesia says it feels peace efforts on South China Sea 'sabotaged'
UPDATED 03/18/2016
Reuters, RPT--Malaysia, Australia to discuss China moves in disputed South China Sea
and
WP, How China's premier survived a two-hour news conference without answering a single hard question
and
StarsStripes, Chinese premier strikes mild tone on regional disputes
and
GR, Militarization and US-China Confrontation in the South China Sea
and
ET, US-China relationship will be complex: Ashton Carter
More international diplomats, please! If China's domestic economic waves begin to rival South China Sea waves it will not benefit the international community or global economy for the United States military to become a Chinese Communist Party "whipping boy".
UPDATED 03/04/2016
CBS, China returns fire at U.S. as war-of-words escalates
It's important that our reputable news media outlets avoid sensational and inaccurate headlines. China did not "return fire"—its spokeswoman ham handedly articulated China's version of, it's the United States' that has militarized "our" South China Sea.
Patient, persistent, and principled diplomacy is not as sensational as turning a few sandcastle radar reclamation installations into a "firefight", but it will likely achieve preferable solutions and relationships.
Wonder when our reputable media outlets will learn to routinely contribute? As an aside if China and the US continue burning fossil fuel at current rates more than sea rock radars will become submerged sandcastles.
(see
WP, Navy aircraft carrier group moves into contested South China Sea
and
CPF, Great Green Fleet Operates in the South China Sea
)
UPDATED 02/29/2016
USNI, PACOM Harris: U.S. Would Ignore A 'Destabilizing' Chinese South China Sea Air Defense Identification Zone
"Let's give China a chance here and see if they'll opt for a more stabilizing less tense situation or whether they'll opt to be a provocative and destabilizing influence," --Admiral Harris, PacCom--
UPDATED 02/22/2016
WP, Satellite images show China may be building powerful radar on disputed islands
UPDATED 02/18/2016
WP, Suspected Chinese missile
[
HQ-9
]
BBC, Deployed on South China Sea Woody Island
(
Paracel
Islands
) (
Wikipedia, Woody Island
) and
Reuters, U.S. expects 'very serious' talks with China after missile reports
UPDATED 01/29/2016
Xinhau, U.S. commander's comments on South China Sea "lack historical common sense": Chinese DM spokesperson
China's multi-thousand years history as a "
Middle-Kingdom
" will not be easily abandoned. Such notions are as obsolete as the equally bizarre notion popularly asserted by nations that their behavior (usually thuggish, boorish, regressive, oppressive, coercive etc.) is "purely or strictly their internal matter".
Neither notions (among others) are viable for any modern nation state desirous of effectively and constructively participating in our global economy.
UPDATED 01/24/2016
Reuters, China taking 'self-isolating' steps in South China Sea: Pentagon
UPDATED 12/19/2015
NPR, U.S. Bomber's
Flight A 'Serious Military Provocation,' China Says
and
Xinhua,

U.S. flight near islands "serious military provocation": Chinese defense ministry
and Reuters,
U.S. studying Chinese complaint that B-52 flew near man-made island
and UPI,
China accuses U.S. of 'serious military provocation' for flying bomber near disputed islands
Like a child reporting their playground provocations—you only get half-a-report. Provocation would be landing a bomber on the internationally disputed territory airstrip!
UPDATED 11/16/2015
UPI, U.S. holding joint naval exercises with China despite South China Sea tensions
UPDATED 10/27/2015
WP, China says U.S. naval destroyer sailing close to Chinese-built island damages peace and stability
and
Xinhau, China warns U.S. of "eventualities" in South China Sea
and
Guardian, Beijing summons US ambassador over warship in South China Sea
UPDATED 10/15/2015
Reuters, Sailing in South China Sea not provocative, U.S. says
Entering international waters in the South China Sea towing seabed levelers would be provocative.
UPDATED 09/16/2015
Reuters, China appears to be working on third airstrip on disputed South China Sea islets: expert
and
DefenseOne, Defiant Chinese Admiral's Message: South China Sea 'Belongs to China'
...and other nation assert it belongs to them...now what Vice Admiral Yuan Yubai?
UPDATED 07/28/2015
Diplomat,Beijing's South China Sea Rhetoric Is Fooling No One
UPDATED 06/24/2015
FP, Beijing's Master Plan for the South China Sea
(sometimes walled) and
Diplomat, The Problems With China's Foreign Policy Bureaucracy
(OBOR related)
UPDATED 05/28/2015
Telegraph, China's army plays down South China Sea island-building
and
UPI, China publicly defends Spratly Islands as sovereign territory
There's a "night and day" difference between building infrastructure projects on the undisputed China mainland and unilaterally constructing land reclamation projects in disputed international waters.
Maybe, PLAN will help PLA understand these clear and critical "night and day" distinctions?
Of course, it's possible that the PLA understand these clear and critical "night and day" distinctions and has decided to implement a Chinese bullying and building land reclamation project in international waters?
UPDATED 04/22/2014
Xinhua, Regional [14th Western Pacific ] naval symposium opens in [ Qingdoa] China
Incremental progress on at sea common communication methods and signals (
Reuters
).
UPDATED 03/31/2014
ThomsonReutersTrust, China summons Manila envoy over South China Sea legal case
and
Sina, China's reasons for refusing arbitration on S. China Sea issue
It's difficult to reconcile China's rhetorical refusal to apply international law arbitration dispute resolution processes with its demand for peace and stability.
Of course China is not the only state to express a schizophrenic pursuit of peace and stability while simultaneously castigating and contravening rule of law concepts (e.g. current Russia-U.S.-Ukraine dispute and U.S. refusal to ratify Law of Sea Conventions etc.).
Those interested in South China Sea maps (exclusive or inclusive of disputes:) might enjoy a fun read entitled,
Mr. Selden's map of China : decoding the secrets of a vanished cartographer.
UPDATED 02/07/2014
CDT, U.S. Weighs In on South and East China Sea Disputes
UPDATED 11/30/2013
U.S. State, China's Declared ADIZ - Guidance for U.S. Air Carriers
Kudos to State—we're not required to respond with force, violence, countermands or even interest to delegitimize another nation's unreasonable, unilateral, stupid or crazy actions (e.g. scrambling jets every time an aircraft enters an arbitrarily drawn or declared polyhedron over the China Sea).
Question Taken at the November 27, 2013 State Department Daily Press Briefing
Question: Is there any specific guidance or information we are giving to U.S. carriers operating in China's recently declared Air Defense Identification Zone (ADIZ)?

Answer: Freedom of overflight and other internationally lawful uses of sea and airspace are essential to prosperity, stability, and security in the Pacific. We remain deeply concerned by China's November 23 declaration of an "East China Sea Air Identification Zone."

The U.S. government generally expects that U.S. carriers operating internationally will operate consistent with NOTAMs (Notices to Airmen) issued by foreign countries. Our expectation of operations by U.S. carriers consistent with NOTAMs does not indicate U.S. government acceptance of China's requirements for operating in the newly declared ADIZ.
Who cares if China decides to arbitrarily draw and declare polyhedrons over all the world's oceans, then scrambles jets or issues press releases every time a bird flies into their arbitrarily drawn polyhedrons (preferably, issues press releases, which are less polluting than scrambling jets)?
UPDATED 11/26/2013
WP, U.S. flies two warplanes over East China Sea, ignoring new Chinese air defense zone
and
CSM, China: American B-52 bombers crossed through airspace claimed by China: Why?
Kudos to both nations for continuing to dialog while they challenge, bully and provoke each other to an equilibrium—the dialog should include the procedures that will be implemented when injury occurs.
It's disappointing, disgusting and childish that nations still challenge, bully and provoke each other in this manner—such is our "progress" over thousands of years!
UPDATED 11/20/2013
Reuters, China hospital ship to set sail for Philippine typhoon zone
China learns, the "hard way" that ascending "major powers" with "big navies" must do more than pose and posture—they must perform and pay, too!
UPDATED 11/12/2013
NYT, A Game of Shark And Minnow
Nice short summary of disputes, including useful maps and beautiful images.
UPDATED 08/22/2013
CSIS, Engagement in the Indo-Pacific: The Pentagon Leads by Example
UPDATED 08/11/2013
CSIS, The South China Sea in High Resolution
UPDATED 04/25/2013
CFR, South China Sea Tensions
Quick Backgrounder
UPDATED 11/30/2012
Reuters, ASEAN chief voices alarm at China plan to board ships in disputed waters
China's announcement, if clarified to mean its unilaterally defined "passport dotted line" seems silly, unnecessarily provocative, and will likely to be ignored by the international community.
UPDATED 11/12/2012
Economist, Blunt words and keen swords
UPDATED 09/24/2012
People'sDailyEng, Is Panetta's visit to China rewarding?
UPDATED 09/08/2012
CommonwealthClub, General Martin Dempsey, Chairman, Joint Chiefs Of Staff (7/27/12; audio)
Discussion includes segments on the diplomatic and definitional challenges related to the South China Sea among other security issues (i.e cyber which the chairman places high on his list).
It seems the new buzzwords are Asia pivot, transparency, partnership; old buzzwords power point presentation. Hopefully transparency and partnership, including with China will be as ubiquitous as power point presentation!
UPDATED 09/05/2012
Reuters, China warns U.S. not to take sides in sea disputes
and
UPI, Clinton notes maturity in U.S.-China ties
UPDATED 09/04/2012
VOA, Will South China Sea Disputes Lead to War?
Firstly, China Is Not a superpower, it's a developing power and knows it. Secondly, all bullies think they own, rule and run an entire playground until they're ignored or provoke a punch in their nose. Thirdly, bullies learn to play nice when they're ignored (i.e. refuse to sign natural resource leases or recognize EEZ, or trade, or recognize midnight landings and radar stations build on rocks etc.) or provoke a punch in their nose.
A high probability of periodic playground fighting or provoking a punch in the nose is not "war" or justification for our bloated military budget nor is an arms race with China necessary to achieve beneficial and desirable South and East China Sea outcomes.
Our nation must immediately ratify the
Law of the Sea Convention
and continue to constructively coordinate adherence with the same by all nations, including China.
It will also be helpful if nations quit trying to have their cake and eat it too when it comes to dealing with China.
UPDATED 09/01/2012
CSM. Clinton to Cook Islands: US cares (more than China)
and
Radio NZ, US to follow NZ's lead on China in the Pacific - Clinton
and
Clinton in South Pacific with China in mind at start of 6-nation Asia tour
and
NZH, Clinton: 'NZ sets a good example'
and
Reuters, Clinton says U.S. can work with China in Pacific
Secretary of State Clinton promotes America's Pacific Peaceful Playground Patrolling Strategy for the Asian Pacific commons—a strategy that must include a major, meaningful, measurable and sustained China contribution.
She has been awesome but our nation must practice transparency in lieu of lecturing about transparency, which must include disclosing the opaque ways of friends and foes.
UPDATED 08/18/2012
NWC, Between Peace And The Air-Sea Battle, A War At Sea Strategy
An interesting multilateral collaborative strategy—a better caption might be, "A Peaceful Playground Patrolling Strategy".
The authors acknowledge some aspects of their proposed strategy require war gaming—hopefully those conducting the war games will recruit the participation of many first grade teachers with significant experience patrolling playgrounds.
UPDATED 08/07/2012
CSIS, China's Coercive Economic Diplomacy: A New and Worrying Trend
Those wanting to learn more about the regional strategic martial issues may find
CSIS, U.S. Force Posture Strategy in the Asia Pacific Region: An Independent Assessment (pdf)
and
CSIS, Chinese Military Modernization and Force Development: A Western Perspective (pdf)
helpful.
UPDATED 08/05/2012
Reuters, China calls in U.S. diplomat over South China Sea
and
Xinhau, Commentary: U.S. should refrain from sending wrong signals over South China Sea
Regional nations are beginning to assert their UNCLOS rights that conflict with China's unilateral and expansive South China Sea claim.
Some of the nations' actions are comic (e.g. building a radar station on rocks that are periodically submerged by tide and wave action; sending monks to live on semi-submerged rocks). Others actions are threatening, provocative, or confrontational (e.g. harassing, impairing and capturing vessels; detaining sailors; impairing or impeding exploitation of other nation's UNCLOS economic zones).
Understandably, but unreasonably China expects its less powerful regional neighbor nations to surrender their UNCLOS rights to its historic (but not historical) interpretation and growing regional economic clout.
Our navy has the thankless job of ensuring conflicting UNCLOS claims do not disrupt the global commons (i.e. peacefully discuss and settle)—a thankless job that does not require the
Seventh Fleet
or a
carrier strike group
.
UPDATED 08/02/2012
Atlantic, The Vietnam Solution
and
Intrigue in the South China Sea (map)
UPDATED 07/22/2012
Reuters, China to formally garrison disputed South China Sea
Nations playing "mine's bigger than your's" is so yesterday!
UPDATED 07/13/2012
Reuters,

China, U.S. seek to calm South China Sea tensions
and
Reuters, SE Asia meeting in disarray over sea dispute with China
UPDATED 07/09/2102
BBC, South China Sea tension tops Asean regional agenda
Interestingly (or ironically depending on your perspective),
recent reports indicate
China's state controlled media has begun making the argument (probably for internal consumption) that the returns on Middle East political transitions are negative—unfortunately, China provides no specific from their dramatic "cost-benefit analysis" (great claims require great proof).
The Great Firewall is leaky!
UPDATED 06/10/2012
Reuters, Firepower bristles in South China Sea as rivalries harden
UPDATED 06/03/2012
Reuters, Access to Pacific harbors key to U.S. strategy: Panetta
It's unclear why China prefers a bilateral strategy to a more stable and beneficial multi-lateral strategy?
There currently exists a golobal multilateral framework called UNCLOS which our Congress should immediately ratify—of course nothing prevents compatible local supplements to global frameworks.
UPDATED 05/07/2012
TurkishPress, China's defense chief visits Pentagon amid diplomatic row
UPDATED 04/14/2012
Reuters, Standoff near Philippines over; Chinese boats keep catch
These playground fights with its smaller playmates will likely cost China far more than a few sharks, clams and harvested coral.
UPDATED 04/12/2012
SOS, Forrestal Lecture at the Naval Academy, Secretary of State Clinton
UPDATED 04/11/2012
BBC, Philippines sends second ship amid China stand-off
UPDATED 02/20/2012
UPI, General [Martin Dempsey] tells of 'opportunity' in Pacific
UPDATED 02/20/2012 Commander
Seventh Fleet
, Vice Admiral Scott Swift, speaks at
RAN Sea Power Conference 2012
UPDATED 02/17/2012
CRS, U.S.-China Military Contacts: Issues for Congress dated February 2012
UPDATED 01/15/2012
CNAS, Cooperation from Strength. The United States, China and the South China Sea (pdf)
Provides a cursory description of the South China Sea boundary and consequent resource disputes and disputants.
Cooperation from Strength is an aphorism for the expenditures on an expansive naval fleet to perpetuate our unilateral global police power. An aphorism that is more nonsensical and discouraging of cooperation than "mistress marriage maintenance".
Cooperation from Strength simply complains that China uses economic coercion on the South China Sea disputants and others; opportunistically substitutes its domestic law for international law; increased its expenditures on military development; and free rides on our heretofore unilateral provision of global police power (the first three complaints are tactics not unfamiliar to our nation and the last is exactly what Cooperation from Strength seeks to perpetuate!).
Not sure how the above complaints justify the expenditures on an expansive naval fleet to perpetuate our unilateral global police power? The complaints seem more supportive of the need to develop a multilateral cooperative framework.
UPDATED 01/13/2012
IHS Janes, Analysis: US' Asia-Pacific strategy provokes mixed response from China
Discusses the recently published "
Sustaining US Global Leadership: Priorities for 21st Century Defense (pdf)
".
UPDATED 01/01/2012
Daily Planet, Obama's Dangerous Asia "Pivot"
UPDATED 12/18/2011
Reuters, U.S. Navy may station ships in Singapore, Philippines
UPDATED 12/09/2011
Reuters, U.S. seeks to reassure China on Australia military ties
China and U.S. are behaving like disillusioned partners trying to figure out whether their efforts are worth it.
It's reminiscent of the recent Mainland rafter who attempted to float across the Taiwan Strait to observe Taiwan's upcoming democratic elections. Only to be intercepted at sea, arrested, and deported back to the Mainland by Taiwan.
The rafter cursing democracy and deportation while a democratic Taiwan wonders how its defenses will next be tested. Both interpreting the rare and foolish event as further reason to distrust the other and question the partnership.
UPDATED 11/19/2011
Reuters, WRAPUP 5-China rebuffs U.S., Asia pressure in sea dispute
President Obama clearly communicated to China that constructive cooperation requires both nations to play by the "big boy" rules of the road.
Premier Wen clearly communicated China's understanding and signaled that coercive pressure may not be the optimal method for ensuring China's constructive cooperation.
All that remains is for China and United States' capable diplomats to convert these "no shit communications" in to constructive cooperation.
UPDATED 11/05/2011
CSM, The rise of an economic superpower: What does China want?
"China's diplomacy is cost-benefit-oriented, not dealing in terms of global public goods, ... It's a very self-interested country, looking after themselves.", --CSM quoting Professor Shambaugh--
UPDATED 10/24/2011 UPI, U.S. seeks development of ASEAN security
UPDATED 10/09/2011
UPI,
War in South China Sea?
UPDATED 05/14/2011
Reuters, Factbox: China's military modernization
"The People's Liberation Army Chief of General Staff Chen Bingde arrives in Washington D.C. on Sunday for a week-long trip to the United States, the highest level visit there by a Chinese uniformed military commander since 2009."--Reuters--
UPDATED 02/21/2011
Diplomat, Is China Planning String of Pearls?
.
UPDATED 01/11/2011
WP, China tests stealth aircraft before Gates, Hu meet
. Secretary Gates demonstrates how to maintain a professional relationship, notwithstanding a possible or perceived slight, snub, or mistiming.
UPDATED 01/10/2011
WP, Chinese defense chief [Liang Guangjie] tepid to Gates
. Gates meets with Chinese Vice President Xi Jinping and will take a tour of China's 2nd Artillery (strategic missiles) headquarters.
UPDATED 12/29/2010
Asahi, U.S. commander says China aims to be a 'global military' power (full text of interview)
. USPACCOM's comment on China's anti-ship ballistic missile system (aka ASBM or "carrier killer") received a lot of play, but that was a very small part of a broad and informative interview.
"...China bears a responsibility, given its growing economic power, growing diplomatic power globally and growing military, to be a greater contributor to the overall security--of not only the Asia-Pacific but elsewhere--brought about by its many elements of national power...."--USPACCOM, Admiral Willard--
U.S.-China on-off military-military-dialogue and cooperation has lagged our robust continuous and contiguous diplomatic-economic-dialogue and cooperation. Parity or near parity must be reached to ensure a strategic stability in South East Asia and adjacent seas.
UPDATED 12/09/2010
Reuters, China, North Korea reach consensus over crisis: report
UPDATED 12/07/2010
Reuters, China hits back at criticism over North Korea
(also,
WP, U.S. steps up pressure on China to rein in North Korea
and
SOS, Secretary Clinton's Remarks with Japanese Foreign Minister Seiji Maehara and South Korean Foreign Minister Kim Sung-hwan
)
UPDATED 12/06/2010
Reuters, China's Hu tells Obama worried by Korea crisis
"President Barack Obama has urged China to work with the US to send 'a clear message' to North Korea that its provocations against South Korea are 'unacceptable'."--
BBC quoting President Obama
--
"Unacceptable" is diplomatic speak for "will no longer be tolerated" and is not unlike a red blinking light. It's simultaneously fortunate and unfortunate that nations push their aggressive or assertive behavior just short of the solid red light—the fundamental reasons are simultaneously simple and complex!
UPDATED 12/05/2010
NavyMil, Naval Exercise Wraps Up In South Korea
and
Al Jazeera, S Korea holds live-fire navy drills
and
TaiPei Times, Japan-US exercises begin
.
Perhaps next week when China meets with North Korea and the United States separately meets with Japan and South Korea all involved will "discover" ways to better spend their time and resources than reciprocating naval exercises. Wasting time and resources threatening to club each other does not seem like an optimal method for solving complex global issues?
UPDATED 11/04/2010
NYT, China Stages Naval Exercises
. ...more ridiculous reciprocating playground provocation from our fearful leaders children6—while Russia engages in East China Sea rock hopping and
missile shots
from the Barents and Okhotsk Seas. ...can we give our leaders a time-out or send them to their rooms—no spanking, it's part of the problem?
UPDATED 10/05/2010
Newsweek, A Beijing Backlash
. A tersely informative article by
Issac Stone Fish
—hopefully he will pen more articles on the interesting, important, and developing U.S.-China relationship. Fortunately, our Secretary of State and defense leadership show every indication of teaming to deal with China's authoritarian CCP leadership in an "Iran smart" way. Perhaps, China-U.S. can pioneer new and evolving methods of cooperative-competition that do not require usage or threats of weaponry—that nations (collection of individuals) must still seek to develop weaponry speaks volumes! (in case you forgot how much is spent on such foolishness here's
a couple of handy charts
courtesy of Time Blog Swampland.)
UPDATED 10/06/2010
WP, Defense Secretary Gates to meet Chinese counterpart in Hanoi, officials say
UPDATED 09/28/2010
Asia Times, US stirs South China Sea waters
.
White House, Joint Statement of the 2ND U.S.- ASEAN Leaders Meeting
White House, Read-out of President Obama's Working Luncheon with ASEAN Leaders
White House, Remarks by President Obama and Premier Wen Jiabao of China before Bilateral Meeting
UPDATED 09/24/2010
Vancouver Sun, U.S. and Asian allies push back against China's rise
. China's South China Sea playground behavior is provoking responses from its regional playmates and counter responses by China. Nice to read our president is emphasizing his role as "the negotiator" and not "the decider".
CSM, China fishing boat captain to be freed by Japan. Will it ease tensions?
CFR, Upping the Ante in China-Japan Clash
UPDATED 09/16/2010
AsiaTimes, China ire at sea chase signals wider reach
UPDATED 08/05/2010
KoreanTimes, China seeking to become world power
UPDATED 07/28/2010
NPR, The New Republic: China's Push to Master the Seas
UPDATED 07/27/2010
NYT, China Warns U.S. to Stay Out of Islands Dispute
It's difficult to understand why if China seeks
"...to have these [South China Sea] disputes solved peacefully through friendly consultations in the interest of peace and stability in the South China Sea and good neighborly relations,"--NYT, quoting China Foreign Minister Yang Jiechi--
it would decry United States' participation? (
SOS, National Convention Center Hanoi, Vietnam (ASEAN) Statement
and
MFA, Foreign Minister Yang Jiechi Refutes Fallacies On the South China Sea Issue
) Surely China's foreign minister is not suggesting United States' participation will be other than peaceful and stabilizing?
UPDATED 07/29/2010 For an alt-perspective read
Obama Maneuvers to Contain China: Is He Using the Pentagon to Assert Declining American Power in Asia?
.
The blog post credits the argument that America (not China) is substituting military intimidation and bullying for lack of competitiveness (interestingly and encouragingly China and the US are using different facts to accuse each other of the same behavior). China's assertion will have more credibility when (if) its currency is free floating, prices are not imputed, and trade-barriers reduced or eliminated. Nevertheless, the point that the U.S. and China should be cooperating and refraining from provoking or antagonize each other is difficult to dispute.
UPDATED 07/24/2010
NYT, Offering to Aid Talks, U.S. Challenges China on Disputed Islands
. Kudos to our Secretary of State for offering to help define and stabilize disputed international South China Sea boundaries. China (or other nations) should not substitute bullying for discussions and consensus simply because another nation does not or cannot use force to differentiate commons from national interests and international boundaries. In this regard our leadership must immediately ratify the latest
Law of the Sea
conventions, clarifying if necessary.
UPDATED 02/05/2010
Economist, By fits and starts
. Mostly fits right now. Unfortunately China leaders like our leaders will tend toward stoking the nationalism rhetoric. The rhetoric can be dangerous because it substitutes emotional appeasement for doing the heavy lifting required for long-term sustainable solutions. Many times leaders of a nation cynically use nationalism believing they can control the passions. But such passions are difficult to control once stoked. Citizens in both China and America must condemn any effort by our leaders to substitute nationalism for the hard work of ensuring sustainable global growth. Protectionism or terminating dialogue or inflammatory rhetoric regardless of the differences or disagreements are nationalistic and impede sustainable global growth.
UPDATED 01/30/2010
Reuters, China threatens U.S. with sanctions on Taiwan arms and U.S. Regrets China's Response to Arms Sales
. U.S. to fill Taiwan's purchase order (see
DID, Taiwan's (Un?)Stalled Force Modernization
) for defensive systems to counter mainland missiles aimed at Taiwan and China's increased South and East China Seas assertiveness (some might say aggressiveness). Beyond routine and proforma expressions of displeasure China and the U.S. are expected to continue cooperation. It seems a little contradictory, if not bemusing that China would plead the ineffectiveness of sanctions on Iran's behalf and then threaten the use of sanctions against others. It's also difficult to see how stopping some China-U.S. military dialogue and cooperation is helpful.
Other South China Sea (below southern tip of Taiwan) and East China Sea (above southern tip of Taiwan) Incidents:
UPDATED 01/14/2010 Time, China and Vietnam: Clashing Over an Island Archipelago. This is part of China's continuing efforts to expand and assert its sovereignty within the South China Sea (each habitable island comes with protected zones). If you use bullying or force to acquire or retain an island others are unlikely to recognize or honor the protected zones associated with that island. China's recent bullying of its smaller regional partner (Vietnam) is troubling—professing harmony while bullying is unseemly, unconvincing, and will only provoke push back.
UPDATED 01/16/2010 Here's the diplomatic version:
"Everyone's aware that China is a rising power of the 21st century,....But people want to see the United States fully engaged in Asia, so that as China rises the United States is there as a force for peace....What I'm expecting is that we actually are having a mature relationship,....That means that it doesn't go off the rails when we have differences of opinion."--WP quoting Secretary of State Hillary Clinton--
UPDATED 06/24/2009
China Daily, Disputes at sea float to surface
Under Secretary of Defense for Policy, Michele Flournoy and delegation head to China for two-day routine confidence building military talks (10th Defense Consultative Talks). South China Sea, Korean Peninsula, Proliferation, and Pirates are likely to be among the agenda items.
Wonder if these ASW encounters can be structured as joint exercises and thereby reduce the probability of future accidents5?
ChinaDaily, Sub, sonar collision 'inadvertent'
UPDATED 05/07/2009
UPI, Chinese fishing vessels confront US ship
. China and U.S. have agreed to disagree on what activity is permitted by convention in a nation's economic zone as opposed to its 12 limit. Each continuing to make their point in non-harmful or non-threatening ways (if somewhat lacking in professional seamanship). Significantly, the USS Victorious (a sibling of the Impeccable) was unaccompanied by any American warships and radioed to Chinese ships for help in warding off its two harassing vessels—both vessels left shortly after the radio call for help.
UPDATED 03/20/2009
UPI, China ready to end standoff with U.S.
. China-U.S. decide to focus on more cooperative matters and end the aggressive posturing—Yes!, 是的, shide
China Daily, Sino-US sea standoff appears to have ended
UPDATED 03/14/2009
BBC, Who's right in South China Sea spat?
.
UPDATED 03/13/2009
UPI, Chinese criticize dispatch of destroyer
.
UPDATED 03/13/2009
StraitsTimes, Destroyers to escort US ships
. United States destroyers will escort unarmed surveillance ships to ensure they are not harassed outside China's territorial space—first to ride shotgun is the Burke-class destroyer
Crew & Family Website, USS Chung-Hoon (DDG-93)
and
NavSource, USS Chung-Hoon (DDG-93)
.
UPDATED 03/12/2009
Reuters, Obama, China's Yang discuss global economic crisis
and recent Impeccable incident.
"The President also stressed the importance of raising the level and frequency of the U.S.- China military-to-military dialogue in order to avoid future incidents."--
White House Blog, The President meets with Chinese Foreign Minister Yang Jiechi
--
UPDATED 03/12/2009
TaipeiTimes, Taiwan 'driving Chinese military goals'
. Certainly China is obsessed with Taiwan, but that begs the question, why? China likely feels "contained" and views Taiwan and their Texas size definition of sovereignty (China would like to define everything within the first island chain as sovereign China, not just the South China Sea.) as necessary to mitigate those feelings.
The question keeping Admiral Keating up at night is whether China intends to impose their definition of sovereignty by force or consensus.
The question keeping China up at night is how much it can provoke the United States without generating an all out China containment response—a disaster for both countries, but especially for China. In this context China's military opaqueness will increase distrust and surveillance missions. Transparency and candidness are keys to our mutually beneficial, and respectful partnership.
Without transparency, candidness, and trust a mutually beneficial and respectful partnership is impossible—Keating will continue trying to figure out how many SSNs and SSBNs he has to sink should China miscalculate how much it can provoke the United States.
Cute statements analogies about thiefs outside your bamboo fence are unlikely to be interpreted as transparency, candidness or trust.
UPDATED 03/12/2009
WorldSocialist, Naval incidents highlight tense US-China relations
.
UPDATED 03/11/2009
Reuters, Obama to raise ships incident with China
.
UPDATED 03/11/2009
Xinhua/ChinaDaily, China lodges representation as U.S. naval ship breaks int'l, Chinese laws
.
Xinhua/ChinaDaily, Defense Ministry urges U.S. to respect China's security concern
.
UPDATED 03/11/2009
BBC, US-China talks as sea row rumbles
. Much of this can be attributed to China's inexperience relating to other nations—it's classic China to define sovereignty like Texans—then become offended when others ignore their Texas size definition of sovereignty.
It seems beneficial that China has begun partnering and interacting with other nations, particularly us—its preference and tendency favors withdrawal behind walls where sovereignty and interaction can be strictly regulated, controlled, and limited. It also seems likely that there will be more periodic, inept, abrasiveness events as China figures out the quality and quantity of its global interaction—taking shots at responsible power nations is fun until you're a responsible power nation (then you squirt water with fire hoses instead of conducting oppressive campaigns and massacres). Ironically, a responsible power nation quickly learns just how little sovereignty they have—unless you define sovereignty as mess management and paying for the cost of mismanaged mess clean-up!
UPDATED 03/10/2009
SFGate, Officials: US ship in China spat was hunting subs
.
UPDATED 03/10/2009
NPR, China Says U.S. Ship Was Operating Illegally
.
UPDATED 03/10/2009
Reuters, U.S.-China spat complicates minister's visit
.
National Intelligence Director Dennis Blair told the U.S. Congress the Chinese have become more assertive in staking claims to international waters around economic zones and were "more military, aggressive, forward-looking than we saw a couple years before" in Southeast Asia and the South China Sea. Blair said it was unclear whether Beijing would use its growing military power "for good or pushing people around."--Reuters quoting Blair--
UPDATED 03/10/2009
NYT, China Says U.S. Provoked Naval Incident
. This is similar to the general allegations and hand waving China made about the September 27, 2002 incident.
UPDATED 03/10/2009
Reuters, China says US navy ship was breaking law-HK website
.
China Draws U.S. Protest Over Shadowing of Ships
VOA, Chinese Vessels Harass US Ships in International Waters
UPDATED 03/10/2009
FAS Secrecy News, US, China, and Incidents at Sea
. Focusing on agreements to prevent such maritime incidents from occurring.
UPDATED 03/10/2009
FAS Strategic Security, US-Chinese Anti-Submarine Cat and Mouse Game in South China Sea
.
-----notes-----


1. The
USNS Impeccable
is one of five non-military surveillance and mapping ships from the United States Military Sealift Command's 25 ships
Special Ships Program
.
It's general characteristics are: displacement: - 5,368 long tons; length - 281.5 feet; beam - 95.8 feet; draft - 26 feet; speed- 12.0 knots; Crew 25 civilian mariners.
The purpose of the surveillance is likely to aid in regional littoral submarine and anti-submarine warfare should war occur between China and the United States or a regional ally. Fortunately, China and United States are currently increasing their dialogue and searching for ways to increase military transparency and engage in confidence building cooperation.
2. On March 24, 2001, in the Yellow Sea near South Korea, a PLA Navy Jianghu III-class frigate passed as close as 100 yards to a U.S. surveillance ship, the
USNS Bowditch
, and a PLA reconnaissance plane shadowed it. (CRS Report RL32496,
FAS Website, U.S.-China Military Contacts: Issues for Congress
, Updated February 2008)
On September 27, 2002 China complained again about the non-military surveillance ship USNS Bowditch (T-AGS 62) mapping the Yellow Sea littorals (
NYT, China Complains About U.S. Surveillance Ship
The South China Sea is a "sensitive area" primarily because of its potential for natural resources (gas and oil), long running disputes over territorial rights claims to some of the many islands (see
Reuters, FACTBOX-South China Sea's disputed maritime borders
), Taiwan's independence, and its submarine base located inside Hainan Island.
The Yellow Sea is a "sensitive area" primarily because of ship building, including submarines, submarine base and the potential for using the Yellow Sea as a submarine bastion for China's ballistic missile submarines (SSBN).
3. Both the NYT and Reuters are now reporting 25 feet not yards.
4. Acoustically this is a very challenging environment requiring a significant amount of surveying, mapping, and modeling to understand.
5. It's likely not an accident that China is interfering with surveying and mapping by destroying the towed acoustical array. China's efforts to interfere with transparent surveying and mapping of international waters seem counter productive, unnecessarily confrontational, irresponsible, unprofessional, and potentially fatal to both the submarine and submariners.
6. The criticism is not directed at the evolutionary logic leading to the mine-is-bigger-than your-behavior, but at our persistent lack of learning. Stated differently, we are not constrained to behave like alpha goats head butting each other to preserve the grass eating order—in some cases head butting that occurs in the middle of hectares of edible grass!