...awaiting special counsel's script or postscript for the Putin-POTUS (Pinocchio of the United States) puppet pageantry is neither desired nor required...Congress's duties are independent of the special counsel's duties...Congress must independently and transparently investigate...then publicly inform our citizens of all dimensions of the Putin-POTUS puppet pageantry perfidy...


...don't forget to laugh...NewYorkerSatire, Ann Coulter Demands to Deliver State of the Union Address...




Pinocchio of the United States (POTUS)



LateShow, Fox News Can't Stop Misreporting Deaths
Web:
UPDATED 07/23/2019
Reuters, U.S. Jury Finds Partner of Former Trump Adviser Guilty of Secretly Lobbying
and
CourthouseNews, Former Flynn Partner (Bijan Rafiekian or Kian) On Trial for Illegal Lobbying Charges
UPDATED 07/17/2019
CNN, Exclusive: Security Reports Reveal How Assange Turned An Embassy into A Command Post for Election Meddling
...
Summer 2016: The releases begin (

from above CNN article

)

June 14, 2016

Democratic National Committee announces it's been hacked and blames Russia.
June 19, 2016

Assange asks the Ecuadorian embassy to beef up his Internet connection.
Embassy staff give Assange technical support "for data transmission," according to the surveillance reports, and help install new equipment.

July 6, 2016

WikiLeaks asks Russian hackers for materials about Clinton "because the (Democratic National Convention) is approaching and she will solidify bernie (Sanders) supporters behind her after."

July 14, 2016

Russian hackers send encrypted files to WikiLeaks, titled "big archive."
Assange meets for hours with German hackers Andrew Müller-Maguhn and Bernd Fix.

July 18, 2016

Republican National Convention kicks off in Cleveland.
At the embassy, an Ecuadorian security guard abandons his post to receive a package outside the embassy from a man in disguise.
WikiLeaks tells the Russian hackers they got the files.

July 22, 2016

WikiLeaks releases more than 20,000 internal files from the Democratic National Committee.

...
...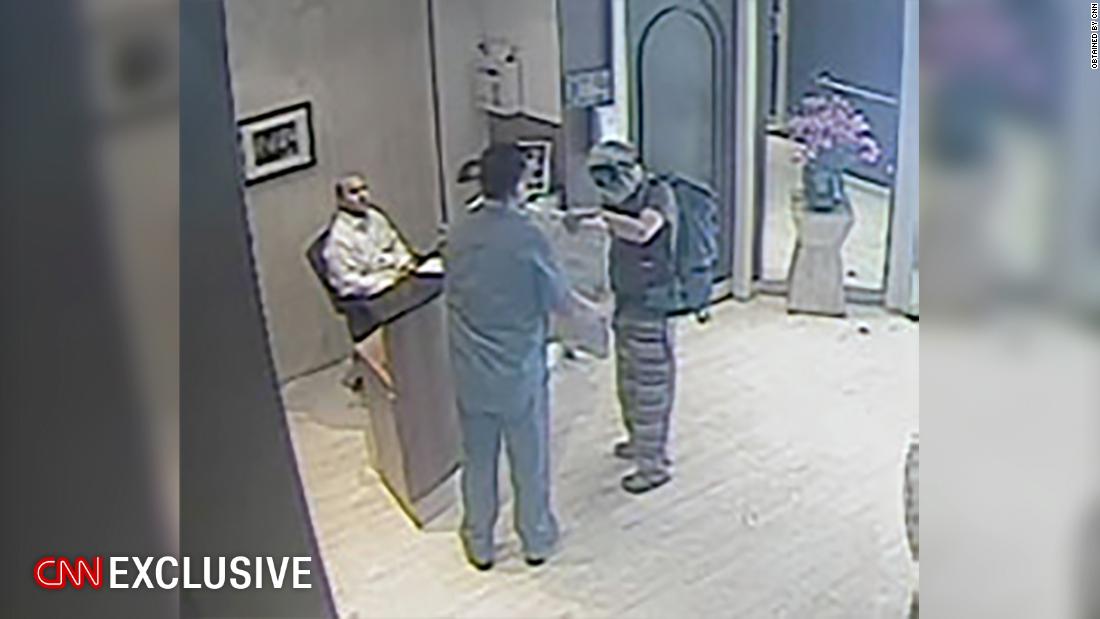 Disguised Person Delivers Package to Ecuador Embassy - July 18, 2016
... don't forget to laugh...
NewYorkerSatire, Democratic Congresswomen Urge Trump to Go Back to Russia
...
UPDATED 03/23/2019
AP, Key Findings Coming Next as Mueller Wraps Russia-Trump Probe
and
USAToday, Waiting for the Mueller Report: Justice Department Will Not Reveal Conclusions of Russia Inquiry on Saturday
...regardless of what the special prosecutor's report says, our nation is being gravely injured by an unstable, unfit, unwell, and unbalanced "new" alt-white-house et al. that requires the continuous attention of the authorities and citizenry...whether the injury is mortal is uncertain, but likely depends on how long an unstable, unfit, unwell, and unbalanced "new" alt-white-house et al. continues...
...debating whether our citizenry can get access to the entire report or calling it "fake news", "hoax", "deep state conspiracy", partisan bias etc. or stalling until 2020 are symptoms of the grave injury...
UPDATED 03/18/2019
Atlantic, A Damaged Soul and a Disordered Personality
and
VanityFair, "His Condition Is Getting Worse": Trump Spirals Online as His Presidency Reaches a Crisis Point
and
NYT, Tech Firm in Steele Dossier May Have Been Used by Russian Spies
and
NYT, Expert Report of Anthony J. Ferrante, FTI Consulting, Inc.
and
NYT (from Dec 2016), The Perfect Weapon: How Russian Cyberpower Invaded the U.S.
...now would be a good time for Congress to unanimously vote to publicly release the entire Mueller Report...then each of the
535 members
should read the Mueller Report aloud on the floor of their respective chambers, ending each reading with the phrase
'The President … Is Not Above the Law'
...
...don't forget to laugh...
NewYorkerSatire, Beto O'Rourke Rocked by Scandal as High-School Mixtape Appears to Include REO Speedwagon
and
TheOnion, New Iowa Poll Finds Majority Of Democrats Would Vote For Candidate Named 'Bobby Cheeseburger'
and
TheOnion, Trump Complains About Overly Complicated Controls Needed To Operate Modern-Day Doors
...timidity and obsequiousness are not required when conducting oversight of POTUS: Pinocchio of the United States...neither are apologies to PUTUS's RNC-GOP cum RAG (Ruse, Artiface, and Gimmickry) Party apologists...
...don't forget to laugh...
...the 25 page memorandum references as attachments previously filed public facing documents...
...ah, can we nullify all POTUS's executive authority and petition the Supreme Court of the United States to annul the 2016 United States Presidential Election...you cannot democratically lead the same people you are conducting a
memetic warfare
campaign against...
...the special counsel office is very likely leaving to Congress, the New York South District, and others to end the tracing of Russian money flows...it is highly likely the special counsel has primary source evidence of POTUS's: Pinocchio of the United States motives independent of avarice or greed...
...is our Senate Intelligence Committee really looking for or expecting direct evidence of a conspiracy from a counter-intelligence investigation (e.g. a tweet from POTUS:
P
inocchio
o
f
t
he
U
nited
S
tates to Putin saying:
"Your money and support has meant so much to me. You and friends can expect relief from the 'adoptions law' [stet] financial sanctions, shortly. Unfortunately I cannot poison the FBI director or saw him up as some have suggested, but I will fire him. All happiness in your retirement. Thank you POTUS:)"
...direct evidence is not required (some might say desired)...circumstantial facts and an unredacted publicly facing special counsel's report is enoughß...





ß Congresspersons and others who evade their responsibility to guide our nation by hiding behind Mueller or worse POTUS: Pinocchio of the United States should immediately resign their office...no leadership is preferable.


...shaken by numerous investigation POTUS, Pinocchio of the United States focuses on [your guess is as good as mine]..."Pinocchio Harassment"?..you can't make this stuff up!..
UPDATED 01/31/2019
CourthouseNews, Trio of Russian Companies Overcome Treasury Sanctions
...don't forget to laugh...
NewYorkerSatire, Trump Comes Out Strongly Against Intelligence
and
NewYorkerSatire , In Ominous Development for Trump, Roger Stone Gets Mueller Tattoo
UPDATED 01/27/2019
AP, The Latest: Roger Stone Says He'll Plead Not Guilty
...it seems useful to place this latest arrest within a context of decades of GOP-RNC cum RAG Party
ruses
rot, artifices, and gimmicks...the Putin-POTUS puppet pageantry perfidy is a few footfalls too many...we've come along way in four and a half decades:
"...People have got to know whether or not their President is a crook. Well, I'm not a crook..."--Nixon, November 1973--
"...I just fired the head of the F.B.I. He was crazy, a real nut job..." --POTUS, Pinocchio of the United States to Russians visiting the Oval Office, May 2017--
...don't forget to laugh...
NewYorkerSatire, Trump Furious That F.B.I. Not Stopped by Shutdown
and
TheOnion, Judge Restricts Roger Stone's Travel Between Fox News, InfoWars Studios While Released On Bond
...
UPDATED 01/24/2019
Reuters, Deutsche Bank Queried by U.S. House Panels on Trump Ties
Originally Published January 22, 2019; Last Updated July 23, 2019; Last Republished July 23, 2019: